Water Slides

Looking for a fun and exciting way to cool off this summer? Check out our selection of water slides! Our water slides are perfect for all ages and are sure to provide hours of entertainment for you and your family. From small slides for toddlers to giant slides for thrill-seekers, we have something for everyone. Our water slides are made with high-quality materials and are designed to withstand the rigors of regular use. They are easy to set up and take down, making them perfect for backyard parties, family gatherings, and other outdoor events. So why wait? Browse our selection of water slides today and start making memories that will last a lifetime!

Water rides and slides can be a fantastic option to cool off on the scorching summer days! Have fun and get wet with these water slides and water bounce houses.
KINGDOM BOUNCE HOUSE WET/DRY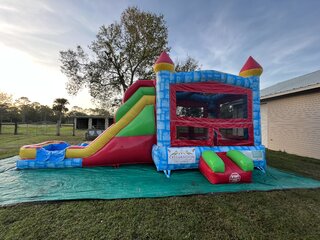 TROPICAL BOUNCE HOUSE WET/DRY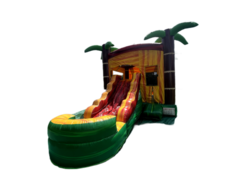 RAINBOW UNICORN BOUNCE HOUSE WET/DRY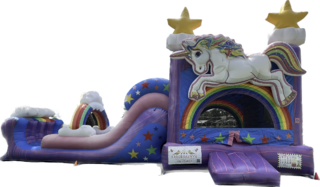 MICKEY MOUSE WATERSLIDE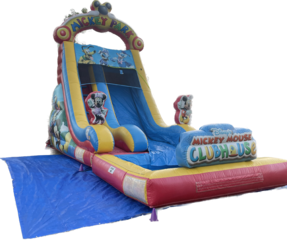 22FT TSUNAMI WATERSLIDE WET/DRY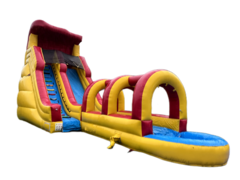 20FT OASIS DOUBLE LANE WATERSLIDE WET/DRY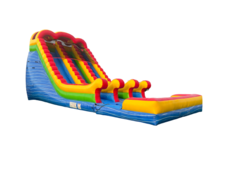 15FT NIAGRA FALLS WATERSLIDE WET/DRY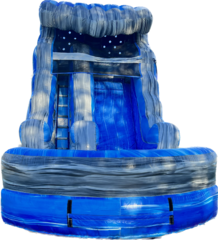 36FT HULK WATERSLIDE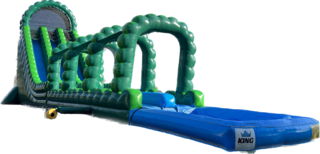 POLICE DUEL LANE BOUNCE HOUSE WET/DRY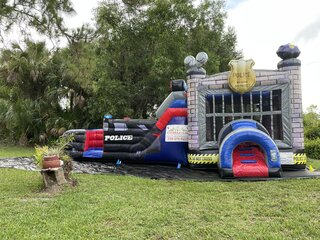 CAUTION BOUNCE HOUSE WITH DOUBLE WET/DRY SLIDE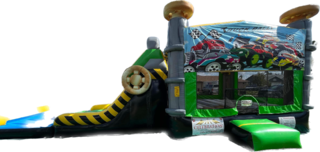 JURASSIC PARK BOUNCE HOUSE WET/DRY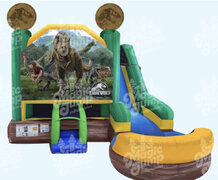 THUNDER DUEL LANE BOUNCE HOUSE WET/DRY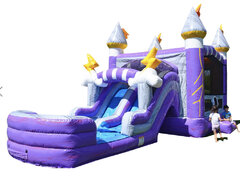 CALI PALMS DUEL LANE BOUNCE HOUSE WET/DRY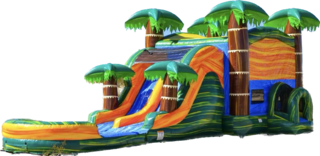 FANTASTIC TITAN BOUNCE HOUSE WET/DRY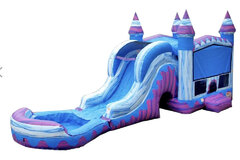 20' REGGAE RUSH DUAL LANE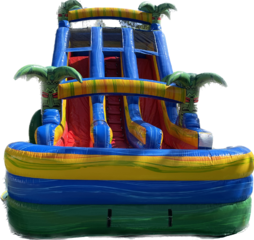 PINK CASTLE BOUNCE HOUSE WET/DRY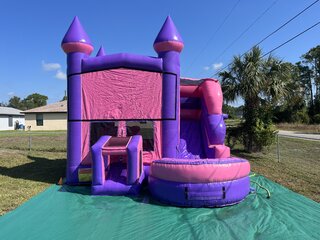 16 FT TROPICAL WATERSLIDE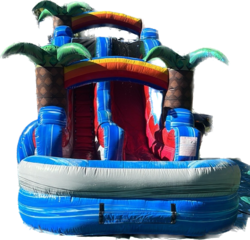 22ft TROPICAL HURRICANE DUAL LANE WATERSLIDE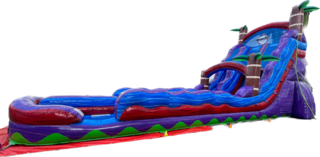 FIRE TRUCK BOUNCE HOUSE WET/DRY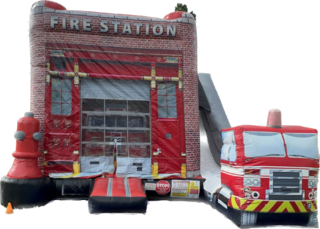 ENCHANTED BOUNCE HOUSE WET/DRY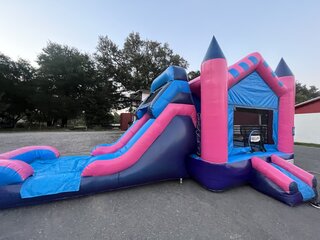 22FT BLUE HURRICANE DUAL LANE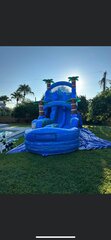 SHARK ATTACK DUAL LANE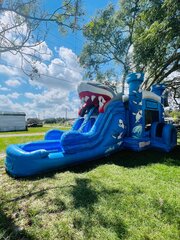 22FT SUNNY DAY DUAL LANE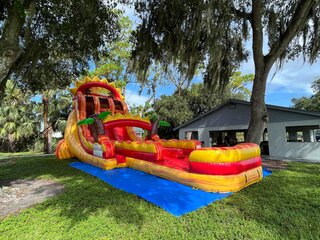 Featured Water Slide Rental
In Bonita Springs
36ft Hulk Water Slide With Slip-N-Slide
Introducing our 36ft Hulk Water Slide With Slip-N-Slide, a towering and thrilling addition to your Bonita Springs event!

This incredible inflatable slide will bring out the superhero in everyone as they plunge down the massive slide and glide along the Slip-N-Slide. With its impressive size and exciting features, the Hulk Water Slide With Slip-N-Slide guarantees an epic and unforgettable experience for all participants. So prepare your party guests to unleash their inner Hulk and make a splash at your next event!
Book Online Now
Unleash The Excitement With Water Slide Rentals In Bonita Springs
Looking for an unforgettable experience that will make a splash at your next event in Bonita Springs? Look no further than Celebration Events & Rentals, your go-to destination for water slide rentals in Naples, FL. We specialize in providing the ultimate inflatable water slide rental, offering a wide range of options to meet your specific needs. Whether you're hosting a birthday party, a corporate event, or a community gathering, our water slides for rent will take your Bonita Springs celebration to the next level.

Experience the thrill and excitement of an inflatable water slide. Picture yourself sliding down a towering slide, feeling the rush of cool water against your skin as you zoom toward the splash pool at the bottom. The laughter of children and the joyful screams of delight fill the air as they experience a turn down the slide. It's an experience like no other, where the sound of laughter and splashing water will create memories that will last a lifetime.

Creating unforgettable memories is at the heart of what we do at Celebration Events & Rentals. We believe that every event deserves that extra touch of excitement and magic, and our water slide rentals deliver just that. Whether you're planning a backyard party, a company picnic, or a neighborhood block party, our rentals will be the star attraction, creating a buzz of anticipation and leaving a lasting impression on your guests.

At Celebration Events & Rentals, we are passionate about delivering extraordinary experiences. Our team of professionals is committed to exceeding your expectations and ensuring that your event is one to remember. We take pride in creating a fun and lively atmosphere where laughter echoes and memories are forged. Let us bring the excitement and joy of our water jumpers to your next Bonita Springs celebration, and together, we'll make a splash that will be talked about long after the event is over.
Popular Water Slide Rental
Reggae Rush
Inflatable Water Slide Rental
Get ready for an exhilarating experience with our 20' Reggae Rush Dual Lane Water Slide Rental. This vibrant inflatable slide stands tall, boasting tropical colors that guarantee an unforgettable adventure at your event. The dual lanes create the perfect opportunity for a friendly race, where laughter and excitement fuel the fun. As you descend, refreshing water sprays accompany each slide down, creating a fun and invigorating ride down the slide.

Your guests with be excited as they gather around this water slide rental waiting for their turn. Its eye-catching design and vibrant colors make it the centerpiece of any event, whether it's a birthday party, family reunion, or community festival, it's all about creating a day full of life-long memories for one and all!
Book Online Now

Why Choose Celebration Events & Rentals
Safety is of utmost importance to us at Celebration Events & Rentals. We understand the significance of your peace of mind as a parent or event organizer when it comes to selecting a well-maintained water slide rentals. That's why we go above and beyond to ensure that our jumper rentals meet the highest safety standards. Each inflatable undergoes thorough inspections before and after every use to ensure its structural integrity. Our dedicated staff members are extensively trained to provide you and your guests with a worry-free experience.

Not only do we prioritize safety, but we also take great pride in delivering exceptional quality in all aspects of our service. Our water jumper rentals are meticulously crafted from durable materials and subjected to rigorous examinations to meet our stringent quality standards. We believe that even the smallest details matter, and we strive for excellence in every aspect of our products. You can rest assured that our jumpers are designed to withstand energetic play and offer a safe and enjoyable experience for everyone involved.

Cleanliness is another key differentiator for Celebration Events & Rentals. We understand the paramount importance of hygiene, particularly when it comes to children's entertainment. Therefore, we adhere to strict cleaning procedures to ensure that our inflatable water slide rental inventory is pristine and ready for your event. Each inflatable undergoes meticulous cleaning and sanitization between rentals, utilizing industry-approved agents that effectively eliminate germs and bacteria. We take great pride in providing a clean and hygienic environment for your guests, allowing you to relax and enjoy the celebration with the assurance that every precaution has been taken.

In addition to our commitment to safety, quality, and cleanliness, we are devoted to delivering outstanding customer service. We believe that your experience with us should be seamless and enjoyable. Our friendly and knowledgeable team is here to assist you at every step, from helping you select the perfect water slide rental for your Bonita Springs event to ensuring prompt delivery and setup. Your satisfaction is our priority, and we strive to surpass your expectations, ensuring that your celebration is an extraordinary success.

When you choose Celebration Events & Rentals for your inflatable water slide rental needs in Bonita Springs, you can have complete confidence that you will receive the highest level of safety, quality, cleanliness, and customer service. We are committed to providing an exceptional experience for you and your guests, creating an unforgettable event that will be cherished for years to come.
Do You Deliver Water Slide Rentals Near Me In Bonita Springs?
Looking for affordable party rentals in Bonita Springs? Well, you have come to the right place. Celebration Events & Rentals is a guaranteed hit! We have been providing fun party rentals for the Bonita Springs and its surrounding areas. We specialize in party rentals for events such as backyard parties, school festivals, birthday parties, church carnivals, and even high school events. We bring the fun with Bounce Houses, Water Slides, Tents, Table and Chairs, and other party rental equipment including popcorn, cotton candy, and snow cones. If you'd like to get a deal, consider our Party Packages and save up to 20%! We also offer Event Decor, Event Linens, and Balloon Arch and Garland Designs to match your party theme!
Our Service Area
Proud to Serve The Following Areas:
If your party or event is beyond that radius, just let us know! We may be able to make special accommodations to suit your event.
NOTE: Fees may vary depending on how far you are outside our service area.
https://www.google.com/maps/embed?pb=!1m18!1m12!1m3!1d114397.08876616354!2d-81.85457356409756!3d26.36180437509141!2m3!1f0!2f0!3f0!3m2!1i1024!2i768!4f13.1!3m3!1m2!1s0x88db198ec4f8428b%3A0xe96146b0b1c4148d!2sBonita%20Springs%2C%20FL!5e0!3m2!1sen!2sus!4v1684417924684!5m2!1sen!2sus
Customers Who Reserve Water Slides For Rent Also View:

Bounce Houses
Bounce house rentals have become a party staple, and Celebration Events and Rentals of SWFL has an awesome selection to choose from for any size of event. We have bounce houses and bounce houses with slides in bright colors and fun themes that will match your party decor and thrill your party guests!

Tents, Tables & Chairs
Are you preparing for an upcoming event and require a designated area for your guests? Look no further! We offer tent rentals, as well as table and chair rentals, ensuring a dedicated space for your guests to gather. Don't worry about the weather, as our rentals provide coverage from the elements.

Event Decor
Transform your event into a visually stunning experience with our event decor rentals. Our event decor selection includes table center pieces and even ceiling drapes! Whether it's a wedding, corporate gala, or birthday celebration, our event decor rentals will add that extra touch of charm and sophistication.
What Our Customers Say About Us
Frequently Asked Questions About Renting Inflatable Water Slides
Yes! All of our units are cleaned thoroughly after each rental. When we say clean, we mean the units are thoroughly disinfected and sanitized using commercial-grade cleaning products. Once the unit is clean, it will be inspected to ensure cleanliness.
Do your units contain any lead in the vinyl?
All of our units are made from 100% lead-free vinyl. Safety is a REQUIREMENT, and we never cut corners when it comes to the safety of your children.
What type of parties and events are your rentals good for?
All of them! Our units are a perfect addition to any party, event, or celebration. You can find bouncers, water slides, and interactive units for occasion including but not limited to birthday parties, church festivals, charity events, corporate events, company picnics, school field days, grand openings, family reunions, Vacation Bible Schools, summer camps, and much more!
Can I use a water hose on a bounce house?
No. Under no circumstances should water be used with any inflatable that is not a water slide. If you'd like to have a water slide inflatable or a combo unit, which is a bounce house and water slide, we can point you in the right direction. Give us a call.
Does the rental have to be set up on grass only?
Nope! Our inflatables can be set up on grass, cement, concrete, asphalt, or even indoors with a different anchoring system. When making your reservation, please let us know on what type of terrain your rental will be installed. Inflatables that are set up on grass are anchored differently than those set up on hard surfaces.