Packages

Packages are a collection of products or services that are bundled together to provide customers with a comprehensive solution for their needs. These packages are designed to provide convenience and value to customers by combining multiple products or services at a discounted price. Packages may include a combination of physical products. By offering packages, We can provide you with a one-stop-shop for your needs. Whether you're looking for a complete solution for your Event, packages offer a convenient and cost-effective way to get everything you need in one place.

Everybody likes to get a good deal on every purchase, and at Celebration we always want to make sure you get the best value for your party rental. Here you'll find a selection of party packages with exciting inflatable rentals and party items that make your party planning easy.​​​​​​​
COOL OFF PACKAGE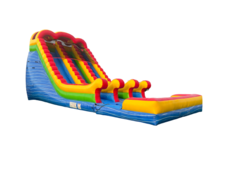 Package #1 Bounce House With 10x20 Tent, Tables, Chairs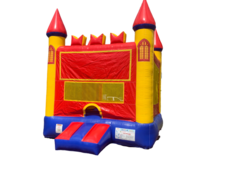 Package #2 Bounce House With 20x40 Tent, Tables, Chairs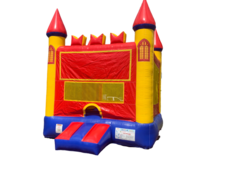 Package #3 Combo Bounce House With 10x20 Tent, Tables & Chairs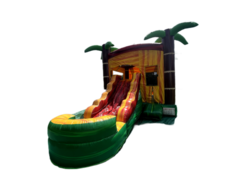 Package #4 Combo Bounce House With 20x40 Tent, Tables & Chai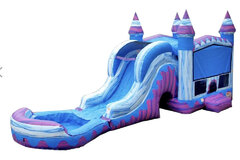 Package #5 Waterslide With 10x20 Tent Tables & Chairs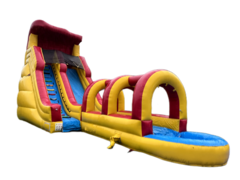 Package #6 Waterslide with 20x40 Tent, Tables & Chairs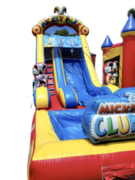 SWEET PACKAGE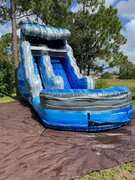 10x20 TENT PACKAGE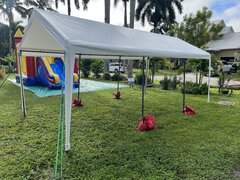 20x40 TENT PACKAGE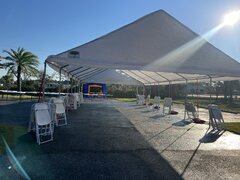 360 BOOTH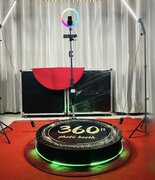 20x30TENT PACKAGE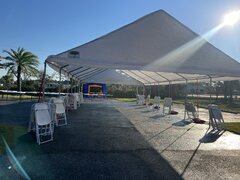 10x10TENT PACKAGE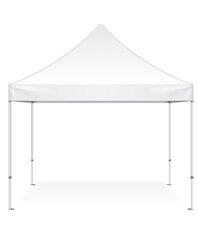 Host An Unforgettable Event With Party Package Rentals
Welcome to Celebration Events & Rentals, your ultimate destination for unforgettable parties and special events in beautiful Naples, FL! Step into a world where families come together to create magical moments and everlasting memories. Our wide range of inflatable party packages are designed to elevate your event and leave a lasting impression on all who attend. With our exclusive inflatable party packages, not only will you enjoy a remarkable celebration, but you'll also experience incredible savings of up to 20% over renting items individually! It's time to let your imagination soar and embark on a journey of joy and wonder with Celebration Events & Rentals.

We have taken a number of the items that are commonly rented together to build these packages and all you have to do is select the one that is right for your party. Take less time planning your party rental items and grab one of these packages. This will free you up to plan your guest list, send out invitations, plan the food and most importantly, focus on celebrating the person or event itself.

Immerse yourself in a world of laughter and pure delight with our spectacular inflatable bounce house party packages. Picture the sheer joy on children's faces as they bounce and play in our exciting bounce houses. And next to the bounce house sits the tent and tables and chairs, where parents are gathered and visiting while children laugh and bounce.

To cool off from one of those hot Florida days, consider a water slide party package. Your kids will be thrilled as they feel the rush of adrenaline sliding down our towering water slides with the refreshing water splashing around them. Our inflatable party packages cater to all ages and preferences, guaranteeing a day filled with fun and excitement for everyone. We even have a sweet package if you want to combine an inflatable and a concession snack!

Ready to turn your backyard into an inflatable play day? Check out our selection of inflatable party packages and let our dedicated team of experts bring your vision to life. At Celebration Events & Rentals, we are committed to transforming ordinary occasions into extraordinary experiences. Get ready to embark on an unforgettable adventure filled with excitement, wonder, and joy as we take your event to new heights.
Featured Inflatable Party Package Rental
Combo Bounce House With Tent, Tables & Chairs
Get ready to elevate your party to new heights with our inflatable party package rentals. Our inflatable party packages are the ultimate recipe for fun and excitement, guaranteed to create unforgettable memories for everyone in attendance. Choose from an exciting bounce house or towering water slide that makes a splash, our inflatable party packages cater to all ages and preferences.

We have inflatable party packages that come with your choice of inflatable and also include tables and chairs. Or for the hotter Florida days, consider one of our water slide package rentals, which includes your choice of a water slide and table and chair rentals. If you need coverage, be sure to look for a package with a tent rental. And for those party days where you want to cure your sweet tooth, choose our sweet package, which includes a cotton candy machine. Don't forget to order additional cotton candy supplies!

When you have found the perfect party package, simply add it to your cart. From there, tell us your date and party time. You can then choose your favorite inflatable and any other add-ons for your party package, pay your deposit, and your party package rental will be prepared and ready for delivery at your event!
Why Choose Celebration Events & Rentals
Looking for top-notch party package rentals that will elevate your event to new heights? Look no further than Celebration Events & Rentals. We are passionate about delivering exceptional party package rentals to ensure an unforgettable experience for our customers. Our unwavering commitment to your safety and satisfaction sets us apart, making us the go-to choice for all your rental needs.

Quality is at the core of everything we do. Our party packages are meticulously are made from top-quality materials. We hold ourselves to stringent quality standards and conduct rigorous examinations to ensure that our rentals are in impeccable condition. You deserve nothing but the best, and we deliver on that promise by providing you with rental items that are not only visually stunning but also built to withstand the test of time.

Cleanliness is a fundamental aspect of our service. We understand the importance of hygiene, especially in today's world. That's why we adhere to strict cleaning procedures for all our rentals. Every item goes through a thorough cleaning and sanitization process between each use. Our dedicated team ensures that every party package rental item is spotless and ready to be enjoyed by you and your guests. Your safety and well-being are our utmost priority, and we leave no room for compromise in maintaining the highest cleanliness standards.

At Celebration Events & Rentals, we take great pride in delivering exceptional customer service. Our friendly and knowledgeable team is here to assist you every step of the way, from helping you choose the perfect party package rentals to ensuring prompt delivery and setup. We believe that outstanding customer service is the backbone of a successful event, and we go above and beyond to exceed your expectations. Your satisfaction is our driving force, and we strive to make your experience with us seamless and enjoyable.

When you choose Celebration Events & Rentals for your inflatable party package rental, you can trust that you are in capable hands. We are dedicated to creating unforgettable events that will be cherished for years to come.
Do You Deliver Party Package Rentals Near Me?
Celebration Events and Rentals of SWFL is Naples's choice for event and party rentals! We offer a broad selection of entertainment and fun foods for any size event. From our bounce houses to our water slides, you are sure to find some inflatable fun that will be the highlight of your next party. If you are planning a wedding or other event, our selection of tents, tables and chairs as well as our event linens, event decor and balloon designs are the perfect choices to create the perfect setting. We have also taken many of our items and combined them into packages to make reservations and party planning easier - and provide a discount on those packages to make choosing Celebration Events & Rentals the easiest choice for parties and events from Naples to Ft. Myers.
Our Service Area
Proud to Serve The Following Areas:
Naples
Fort Myers
Lehigh Acres
Bonita Springs
Cape Coral
All areas in between
If your party or event is beyond that radius, just let us know! We may be able to make special accommodations to suit your event.
NOTE: Fees may vary depending on how far you are outside our service area.
https://www.google.com/maps/d/u/1/embed?mid=1_uECZ_6-RhmxefyWNChj0srsmam48og&ehbc=2E312F
Customers Who Reserve Party Package Rentals Also View:

Water Slides
It's time to plan your next outdoor event, and we are here to help with water slide rentals! Our water slide inventory includes a fun selection of themes to match any party decor. We even have water slides with slip-n-slides, and all are perfect for both kids and adults. Browse our inventory to reserve your favorite today!

Tents, Tables & Chairs
Are you preparing for an upcoming event and require a designated area for your guests? Look no further! We offer tent rentals, as well as table and chair rentals, ensuring a dedicated space for your guests to gather. Don't worry about the weather, as our rentals provide coverage from the elements.

Event Decor
Transform your event into a visually stunning experience with our event decor rentals. Our event decor selection includes table center pieces and even ceiling drapes! Whether it's a wedding, corporate gala, or birthday celebration, our event decor rentals will add that extra touch of charm and sophistication.
What Our Customers Say About Us
Frequently Asked Questions About Renting Party Packages
Yes! All of our units are cleaned thoroughly after each rental. When we say clean, we mean the units are thoroughly disinfected and sanitized using commercial-grade cleaning products. Once the unit is clean, it will be inspected to ensure cleanliness.
Do your units contain any lead in the vinyl?
All of our units are made from 100% lead-free vinyl. Safety is a REQUIREMENT, and we never cut corners when it comes to the safety of your children.
What type of parties and events are your rentals good for?
All of them! Our units are a perfect addition to any party, event, or celebration. You can find bouncers, water slides, and interactive units for occasion including but not limited to birthday parties, church festivals, charity events, corporate events, company picnics, school field days, grand openings, family reunions, Vacation Bible Schools, summer camps, and much more!
Can I use a water hose on a bounce house?
No. Under no circumstances should water be used with any inflatable that is not a water slide. If you'd like to have a water slide inflatable or a combo unit, which is a bounce house and water slide, we can point you in the right direction. Give us a call.
Does the rental have to be set up on grass only?
Nope! Our inflatables can be set up on grass, cement, concrete, asphalt, or even indoors with a different anchoring system. When making your reservation, please let us know on what type of terrain your rental will be installed. Inflatables that are set up on grass are anchored differently than those set up on hard surfaces.