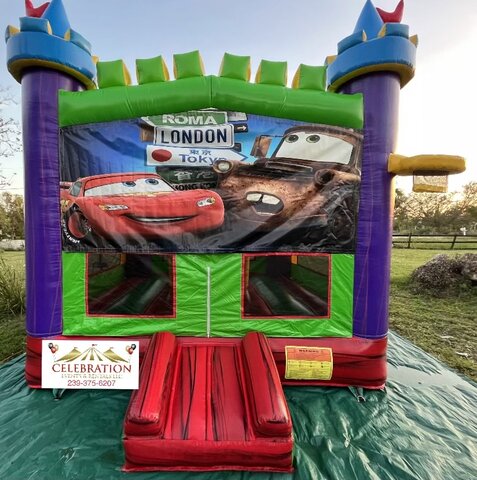 RAINBOW BOUCE HOUSE
Actual Size: 13Lx13Wx15H
Setup Area: 15Lx15Wx17H
Outlets: 1
Age Group: 3+





$165.00

Free Delivery & Set-up

Watch Video Inside



Introducing the 102-Rainbow Bounce House, the ultimate source of fun and excitement for kids of all ages! This vibrant and colorful inflatable bounce house will bring joy and laughter to any party or event.
Constructed with high-quality materials, the 102-Rainbow Bounce House ensures durability and safety. Its spacious interior provides ample room for kids to jump, bounce, and play to their heart's content. The rainbow-themed design adds a touch of whimsy and charm, creating a visually appealing centerpiece that will capture everyone's attention.
Setting up the 102-Rainbow Bounce House is a breeze. With its easy-to-use inflation system, you can have the bounce house up and running in no time. The sturdy construction and reinforced seams guarantee a secure and stable structure, allowing kids to enjoy endless hours of bouncing fun without any worries.
Safety is our top priority, which is why the 102-Rainbow Bounce House is equipped with safety nets on all sides. These nets prevent accidental falls and ensure that children can play safely inside. Additionally, the bounce house features a soft landing pad, providing a cushioned surface for kids to land on.
Not only is the 102-Rainbow Bounce House perfect for birthday parties, but it is also a great addition to community events, school functions, and backyard gatherings. It provides a safe and entertaining environment for kids to burn off their energy and create lasting memories.
So why wait? Bring the excitement and joy of the 102-Rainbow Bounce House to your next event and watch as kids' faces light up with delight. Get ready for endless laughter, boundless energy, and unforgettable moments of fun with this fantastic inflatable bounce house.
☔⏳ Rescheduling due to Rain: Feel free to reschedule your rental if it's raining without any extra charges! But remember, this needs to be done 48 hours prior to your event start time.
👧👦🎈 Bounce House Occupancy: Please note, for safety, we recommend based on manufactures guidelines a maximum of 8-10 kids of the same size bouncing at one time. For slides, it's a one-at-a-time rule!
🧼🧽✨ Cleaning Standards: Rest assured, all our units are thoroughly cleaned and sanitized before use.
🔌🎁 What's Included in Your Rental:
1. Extension Cord
2. Blower
3. Safety Stakes or Sandbags for secure grounding.
4. A tarp for the unit
🏡🔌💦 Your Checklist:
1. Ensure there's enough space for setup and a clear path to the setup location
2. An electric outlet per blower within 75 feet of the setup area (if more than one blower is required two separate breakers will be needed) 3. If you're renting a water slide or combo, a water source, and a hose within 50 feet of the setup area is required.