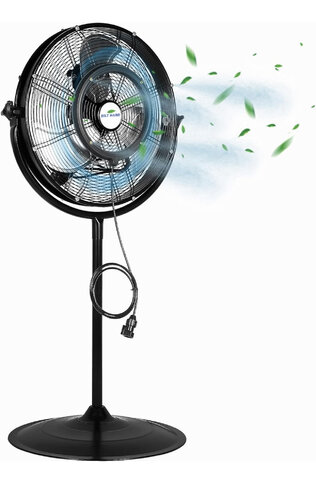 MISTING FANS




$65.00

Receive Free delivery with a purchase order of $165 or more.



Introducing our revolutionary Misting Fans, the perfect solution to beat the heat and create a refreshing outdoor environment. These state-of-the-art fans combine the power of a traditional fan with the cooling effects of misting technology, providing you with a comfortable and enjoyable outdoor experience.
Our Misting Fans are designed to deliver a fine mist of water droplets that evaporate quickly, lowering the ambient temperature by up to 10 degrees Fahrenheit. Whether you're hosting a backyard barbecue, lounging by the pool, or simply relaxing on your patio, our Misting Fans will keep you cool and comfortable even on the hottest summer days.
Featuring a sleek and modern design, our Misting Fans are not only functional but also aesthetically pleasing. With adjustable misting levels and fan speeds, you have full control over the cooling effect, allowing you to customize your comfort to suit your preferences.
The built-in water tank ensures continuous misting for hours, eliminating the need for constant refills. Additionally, our Misting Fans are equipped with a durable and energy-efficient motor, ensuring long-lasting performance while minimizing energy consumption.
Installation is a breeze with our easy-to-follow instructions, and the sturdy base provides stability and prevents tipping over. The portable design allows you to move the fan wherever you need it, whether it's in your backyard, on your deck, or at a sporting event.
Not only do our Misting Fans provide relief from the heat, but they also help to reduce airborne dust and allergens, creating a healthier and more enjoyable outdoor environment for you and your loved ones.
Invest in our Misting Fans today and experience the ultimate cooling solution for your outdoor spaces. Stay cool, stay comfortable, and enjoy the outdoors like never before with our high-quality and innovative Misting Fans.